Our Story
Kia Ora, Malo e lelei, Welcome to Little Wonders Oamaru. We are very proud to offer an amazing purpose built centre with fabulous learning resources and excellent care for babies, toddlers and young children. We are licensed for 100 children from 3 months to 5 years and offer four separate classrooms for specific age groups.  
ERO Report
The Education Review Office (ERO) is the New Zealand government department that evaluates and reports on the education and care of students in schools and early childhood services. ERO's reports are used by parents, teachers, early childhood education managers, school principals and trustees, and by government policy makers.
Early childhood services are reviewed on average once every three years. Reviews will be more frequent where the performance of a school or centre is poor and there are risks to the education and safety of the students, or less frequent where a school has a stable reporting history and demonstrates good self-review processes and use of its assessment information.
You can read our centre's ERO review here.
Centre Information
Centre Hours
Monday – Friday: 7.30-5:30pm                             
Saturday, Sunday & Public Holiday: Closed
Ages Catered For: 3 months- 5 years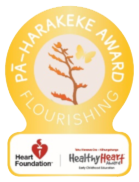 I was apprehensive about starting my son in childcare at 4 months old. I worried about how his days would be without me there and hoped that he would get the love, care and attention that he was used to at home.

The team at Little Wonders were amazingly supportive. They mirrored the routines that I had established at home which made the settling process easier for us both. They were honest about how his days went which was really important to me. The fact that they could openly tell me when he had a bad day assured me that I could trust them to keep me informed about his progress. I was able to visit during the day to breastfeed him which I found great as I didn't have to express as much milk. Breastfeeding and providing expressed milk was encouraged by the staff which I thought was awesome.

He is now 8 months old and is very settled. He is familiar with his teachers and is happy for me to come and go during the day which assures me that he feels safe and secure with his teachers. I have gotten to know his teachers well and they are always willing to work alongside me as we guide my wee man to be the best he can be.  I know that they know my son well and can respond to his needs. I enjoy watching through the window for a few minutes when I arrive to pick him up and seeing how comfortable he is at Little Wonders the smiles on his face tell me he is in good hands

Since we have enrolled Olivia with Little Wonders, Oamaru, we have been extremely impressed and truly grateful for the caring and nurturing guidance she has received. Her teachers, in fact, all of the staff, have treated Olivia and us, with respect and have played a part in Olivia developing into a confident, active learner that loves going to 'baby school' every day. She has affirmation as an individual and also the security of belonging to a group.

At every stage, we have been so grateful that the staff has been so patient and thoughtful within every interaction we have had and are never too busy to talk to us and answer questions. Truly a great choice of care for our daughter.