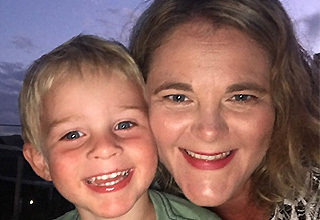 Annie Percy, Centre Manager
What inspired you to become an early childhood teacher?
I have always loved being with young children and even as a child spent time in preschools in the school holidays. I started in ECE because of my passion for children's learning. Watching children learn and grow is so rewarding for me.
How long have you been working in this sector?
I started in the sector in 2002.
What do you love most about what you do?
I love not only watching the children learn and grown but as a centre manager I coach and mentor my team to be the best that they can be; promoting quality learning outcomes for all children.
What are three things that make your centre special?
I love Little Wonders Pegasus because we have such a homely environment in the peaceful Pegasus town. We have a diverse culture of children in the centre and the feeling of community is so strong here. We have a beautiful centre with a wide range of resources and equipment making teaching exciting each and every day. The teaching team here are professional and knowledgeable whilst having a lot of fun learning with and alongside the children.
What is your favourite time of the year at the centre?
There is always something new and exciting going on at the centre so every day is a wonderful new experience for me.
What is your personal ECE philosophy?
I have a strong belief that unhurried play is essential in ECE centres; the team are here to support and provide the tools for children to extend on their learning. Relationships are at the heart of every centre; parents are trusting in us to care and educate their children and I take that role very seriously.
What do you like to do in your free time?
I have two children so my husband and I spend a lot of time outdoors with our children. We go boating, fishing and exploring most weekends and holidays. We live rurally so we are often found out with the animals.
Diploma ECE, Fully registered teacher
more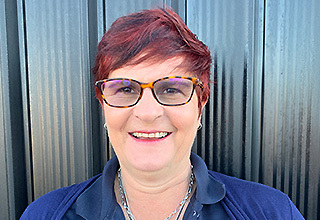 Julie O'Connor, Qualified Teacher, Preschool Room
Hello, My Name is Julie O'Connor. I have been working at Little Wonders since April 2019. I am a very experienced teacher who has been involved in early childhood education for the last 30 years. I started in Playcentre when my three children were very little being a parent and then supervising before joining the parent education team and the Playcentre Association. I then moved into teaching at several centres and finished my diploma in 2007. I have worked in community based, Christian  based centres and worked for Best Start in Christchurch for 9.5 years as a teacher, then a head teacher, and Acting Centre Manager.
I am a very passionate teacher and like to empower children to guide their own learning by getting to know them and what makes them tick so I can use their own knowledge and strengths to drive their learning forward. I am also passionate about being stainable and using lots of recycled equipment and loose parts play that the children can use to make and create anything they want. This lets them make sense of the world around them, use their imagination and be able to communicate and express their ideas and thoughts with others. I believe that respectful reciprocal relationships are the key to successful learning outcomes for all children.
I have three adult children with my oldest two children Hannah and Brent living and working in London. My youngest daughter Rowena lives and works as a relief teacher for Best Start and has a 9 month old son who attends the Nursery here at Little Wonders.
In my spare time when I am not with my grandson Roddy, I love to do hand crafts. I knit, crochet and sew. I also love to cook and spend lots of time in my garden, growing my own vegetables and enjoying my roses and my many lilies. In the summer I love to support monarch butterflies by growing swan plants.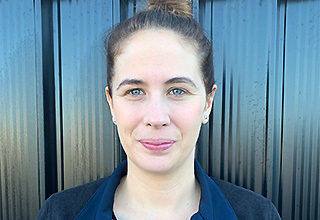 Ashleigh Cheeseman, Teacher in Training
My name is Ashleigh, I am currently in my final year of study working towards my Bachelor of Teaching in Early Childhood Education. I started teaching seven years ago as a reliever for a centre in town after a career in hairdressing. It was time for a change, and I had always loved being around children. Having had my own children I decided that studying was something that really interested me. I was fortunate enough to join the Little Wonders team when it opened almost three years ago.
We are so fortunate as a centre to have an enquiry room specific to drama to allow the children to explore curiosity and creativity. Our outdoor area is an attribute to our preschool with wide open spaces for children to be kids and a gorgeous view of the lake! Our teaching team are dedicated to providing an exciting space with provocations to extend on learning and interests.
My own teaching philosophy is forever evolving but my approach to teaching is to be warm and nurturing and give the children a home away from home environment. I love all things creative and arty so it's really important that children can explore all the textures and have opportunities to be creative in our learning space. In my free time I spend my time with my husband and our four children. We live locally so we are usually attending children's sport and local activities in our area.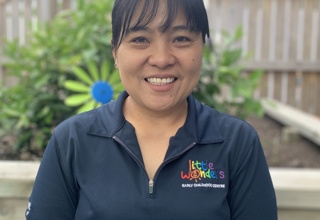 Christine Bobis, Teacher - Nursery Room
Kia ora! Mabuhay!
My name is Christine Bobis. I have been teaching since 1999, graduating with Bachelor of Science in Secondary Education from Philippines in 1999 as well as Diploma of Proficiency in Professional Courses in Special Education in 2008. Since then, I have taught at private and public schools before deciding to migrate to this beautiful country with my family in 2009. I have also gained my degree in Bachelor of Teaching and Learning in Early Childhood from University of Canterbury in 2015.  I feel very fortunate to be part of your child's learning and development, and giving them the opportunity to evolve in their early years here at Little Wonders Pegasus.
I work in the nursery room with our youngest children. I believe infants require reciprocal relationships which develop a sense of security and independence. Children need to feel loved, valued, and respected in every way possible. I will support and encourage our children to be themselves, allowing them to learn in their own way in a respectful environment. I will support them on their journey to self-regulation and self-help, preparing a foundation for whatever path they take in life. I will make a difference and always be here for the children in our care and our parents/whanau to support them on a daily basis at Little Wonders Pegasus.
In my free time, I make sure that I spend quality time with my family – my husband our 3 children, my daughter-in-law and granddaughter.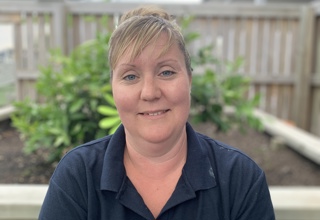 Angela Williams, Head Teacher - Nursery Room
Hello, Kia ora
My name is Angela Williams and I have been working at Little Wonders Pegasus as head teacher in the nursery since November 2019.
I live in Parklands with my husband and three boys ages 8, 10 and 13, and when I actually have some spare time, I enjoy reading, watching movies, and just generally hanging out with my family and having fun together.
I was born and bred in sunny Marlborough and have lived in Christchurch for nearly 20 years. I have always wanted to be a teacher, but only decided to study early childhood education when my youngest son was 2 years old and finished my degree in 2017.
I am hugely passionate about early childhood education and believe that responsive reciprocal relationships are an essential foundation for children's learning and development. I love building strong bonds with the children and families I work with and feel that a preschool environment should be a safe and comfortable space for children where they have a strong sense of belonging and wellbeing.
The nursery age group is my absolute passion, and I am constantly in awe of how much a young child learns and grows in those first two years of life. I feel it is a privilege to be part of any young child's learning and development journey and will always advocate for what is in the best interests of the child.
We have a fantastic teaching team in our beautiful nursery who are passionate about providing high quality care and education for under two-year olds.
No reira,
Tena koutou tena koutou tena koutou katoa.
more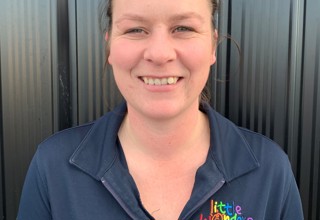 Jorden, Teacher Nursery Room
Hello, Kia Ora, my name is Jorden and I have been teaching in early childhood for the past 9 years. I have 3 children of my own and I have recently returned to work after being on maternity leave with my youngest Nixon. This has bought about a change in my practice and I am excited to be on a new teaching journey by joining the team in the nursey room after being in the preschool room for the past 3 years.
I have a passion for being apart of children's learning journeys and love inviting the children into new and exciting experiences that spark their curiosity and wonder of the world. I believe that the environment plays an important part in our learning and enjoy getting out in nature, exploring all it has to offer. At Little Wonders I love that we support this and get to do this often by taking the children out on excursions, whether it be the forest, a walk around the lake or a trip to the local library.
In my spare time I enjoy taking my own children out to explore the world, whether we are scooting biking or walking, it is fun watching them discover new things and find joy in the simple things in life. I also enjoy baking and spending time with family and friends.
more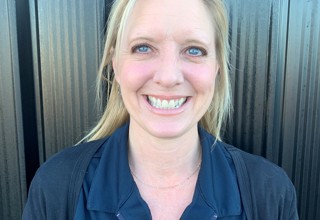 Dawn Adams, Non-certificated teacher - Preschool room
Hello, My name is Dawn Adams and I work in the preschool. I originally come from a horticulture background moving on to get my certificate in Human Services, which led me to being a Youth Worker for disadvantaged teens in America. I moved to New Zealand in 2002. I spent time traveling with my partner, then I worked for the 'What Now'  tv show and then in the Healthcare sector. I got married and had my son, and once he went to preschool I decided to pursue a career in the ECE sector. I decided teaching is what I wanted to be a part of. 
I've been working in this field since 2016. I love assisting children with their learning and watching them grow and develop as individuals and forming friendships. It is such a pleasure to be part of this special time in their lives. I believe in a play based philosophy, where children are encouraged to initiate their own learning and being creative. We have an amazing art room giving the children as much access to art resources as possible, which is my one of my favorite things. Throughout our centre, we provide fun and exciting experiences. I am happy to be part of the Little Wonders team.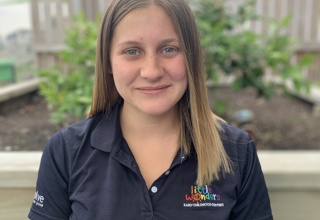 Hilary Edgar , Nursery Teacher - Non Certificated
Kai Ora, my name is Hilary Edgar and I have been working at little wonders Pegasus since march 2019.
I have spent the majority of my life growing up in North Canterbury and currently live in Amberley with my partner and 2 cats.
Previously I had a career in aviation as cabin crew, which aloud me to explore and travel the world. Eventually I decided I needed to come home and started doing some casual realeving work. This really sparked my passion for children and I was thoroughly enjoying my time here, so I was so pleased to be offered a full time position in the nursery.
I love working alongside the children and following each individual learning journey, the joys of watching a child learn something for the first time is a joy within itself.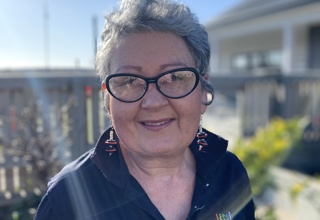 Sandy , Centre Cook
Hi my name is Sandy Mclaughlan and I am the cook here at Little Wonders Pegasus.
My love of children and years of cooking and hospitality have inspired me to work in Early Childhood. I have worked in Early Childhood on and off for the last 9 years now.
Cooking and interacting with the children, watching their confidence grown and experimenting with new flavours and meals is what inspires me. 
Being responsible for the role here and putting together healthy nutritious meals for the children brings me great joy. I love working at this centre as we have a lovely work environment, a great team and it 's a home away from home.
In my free time I enjoy gardening and the outdoors. Restoring furniture, abstract painting and listening to music.
more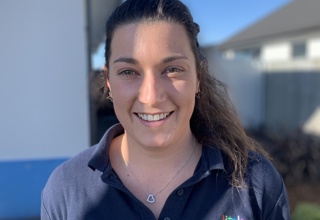 Paige Arney, ECE Certified Teacher
Hi, my name is Paige, I graduated from the University of Canterbury in 2014 with A Bachelor of Teaching and Learning in Early Childhood. I was lucky enough to start at Little Wonders in 2020 after returning from a 2 year stay in Canada.
Working with children has always been something that has interested me. I love seeing the development they go through and seeing their excitement when they learn something new. I have a love for the outdoors myself and really value the importance of children being outside and discovering their environment. We are so lucky at Little Wonders to have the opportunity for tamariki to be able to go on trips, to the forest, beach and even the library. These trips are where we can really help the children explore and learn from their environment.