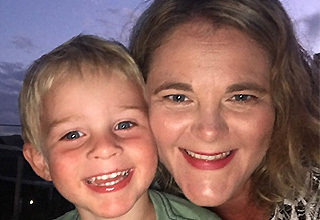 Annie Percy, Centre Manager
What inspired you to become an early childhood teacher?
I have always loved being with young children and even as a child spent time in preschools in the school holidays. I started in ECE because of my passion for children's learning. Watching children learn and grow is so rewarding for me.
How long have you been working in this sector?
I started in the sector in 2002.
What do you love most about what you do?
I love not only watching the children learn and grown but as a centre manager I coach and mentor my team to be the best that they can be; promoting quality learning outcomes for all children.
What are three things that make your centre special?
I love Little Wonders Pegasus because we have such a homely environment in the peaceful Pegasus town. We have a diverse culture of children in the centre and the feeling of community is so strong here. We have a beautiful centre with a wide range of resources and equipment making teaching exciting each and every day. The teaching team here are professional and knowledgeable whilst having a lot of fun learning with and alongside the children.
What is your favourite time of the year at the centre?
There is always something new and exciting going on at the centre so every day is a wonderful new experience for me.
What is your personal ECE philosophy?
I have a strong belief that unhurried play is essential in ECE centres; the team are here to support and provide the tools for children to extend on their learning. Relationships are at the heart of every centre; parents are trusting in us to care and educate their children and I take that role very seriously.
What do you like to do in your free time?
I have two children so my husband and I spend a lot of time outdoors with our children. We go boating, fishing and exploring most weekends and holidays. We live rurally so we are often found out with the animals.
Diploma ECE, Fully registered teacher
more
Caitlin, Head Teacher
Hi my name is Caitlin and I am the Head Teacher of our Nursery. I live in Amberly and have been teaching for over 6 years. I started off as a reliever and was offered a permanent position teaching 2-3 year olds while I studied by distance at Te Tari Puna Ora o Aotearoa, where I gained my bachelor of Teaching in February 2013. My manager through this period of my working life, and the manager that initially took a chance on me is actually our current centre manager Amy, whom I am really enjoying working with again!
I have worked alongside each age group, however my passion is in the Nursery where I have now been teaching for over half of my teaching career.
I have always wanted to be a teacher growing up, I love that I have the opportunity to be a part of and support children in their life long journey of learning.
I love my position at Little Wonders Pegasus leading a fantastic team of teachers who are truly passionate about what they do. Our Nursery prides itself on our Primary Care, we all feel very strongly about this and feel as though it has helped our children gain such a strong sense of belonging in our centre.