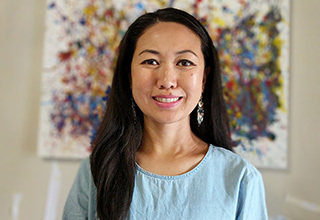 Katrina Grau, Centre Manager
What inspired you to become an early childhood teacher?
Interactions with young children and how they connect their working theories together have inspired me to be an early childhood teacher. I have always been fascinated with how children learn and come-to-know the events and phenomena that they already know.
How long have you worked in this sector?
I have been in the education industry, both here and overseas, for close to 13 years now, working with tamariki aged from 0 to 8 years old. In that time, I have handled various responsibilities from being a teacher, office administrator, mentor, curriculum coordinator and centre manager.
What do you love most about what you do?
I am an advocate of the Reggio Emilia approach. I enjoy working on investigations and projects with tamariki, creating authentic documentation and preparing inspiring provocations. I am a dedicated, resourceful and goal driven professional educator with a solid commitment to the holistic development of all our akonga. I like to inspire other Kaiako to be the best that they can be for our young tamariki.
What are three things that make your centre special?
The passionate team, our small community of learners and beautiful learning environments.
What is your favourite time of the year at the centre, and why?
I love all times of the year! Meaningful learning and respectful relationships occur throughout all seasons.
What is your personal ECE philosophy?
I consider relationships with whānau essential for enhancing children's learning; reciprocal and responsive relationships foster a sense of belonging and empowerment for whānau of all ethnicities and cultures to become active members of the early childhood centre. Collaboration is vital for establishing a learning environment where whānau, tamariki and Kaiako have the opportunity to share their expertise. I believe responsive relationships with both tamariki and whānau, along with careful observation, supports Kaiako to identify authentic opportunities for learning. I see great value in stepping back to observe children's interests, strengths, needs and behaviours. I see much significance in tuakana-teina relationships amongst children and I value the concept of Ako as learning and teaching being one and the same. I believe co-learning has many benefits including the potential development of empathy in children. We learn to care for others as their friend, mentor and brother/sister. I am passionate about creating a culture unique to the centre; where the learning community becomes a family with every participant having a place they can thrive in.
Master of Early Childhood Education, Graduate Diploma of Early Childhood Education , Bachelor of Business Management, fully registered teacher.
more