Our Story
Our overarching values are:
Growth, Pride, Collaboration, Kindness, and Play. These are seen in all areas of our centre and are central to the development of our centre's philosophy.

We are a purpose built centre with four separate classrooms. The separate classrooms allow children choice and also age and stage related experiences. The outside areas in our centre are well thought out and encourage children to learn alongside one another.

We have a beautiful infants and toddlers area outside where the children are able to explore and develop a growing sense of self while investigating all the areas. We are lucky with our positioning as we are close to parks and Bluestone school so regular visits to these areas are encouraged.
ERO Report
The Education Review Office (ERO) is the New Zealand government department that evaluates and reports on the education and care of students in schools and early childhood services. ERO's reports are used by parents, teachers, early childhood education managers, school principals and trustees, and by government policy makers.
Early childhood services are reviewed on average once every three years. Reviews will be more frequent where the performance of a school or centre is poor and there are risks to the education and safety of the students, or less frequent where a school has a stable reporting history and demonstrates good self-review processes and use of its assessment information.
You can read our centre's ERO review here.
Centre Information
Centre Hours
Monday – Friday: 7.30-6:00pm                             
Saturday, Sunday & Public Holiday: Closed
Ages Catered For: 3 months- 5 years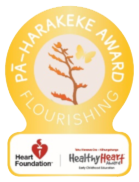 Little Wonders Timaru was such a happy accident for my family. We were forced to have to do daycare because my husband hurt his Achilles, and I had work. The first time I left, I cried the whole way home just because I had never left my son with anyone that long - not even family. When I returned and picked him up, I was greeted by stories from the staff and pictures. I walked in on his playing outside in the sandbox and barely taking note I had come.

As the months have progressed, I have realized what a gem this place is. They are helping him grow in leaps and bounds - we are far from family so the social and mental growth he gets, is invaluable. The staff has goals for him and specific ways to meet them. We have been noticing weekly changes in him and are so grateful for how they have helped him grow. We love them - little wonders - the good food they give him (it always is so healthy and delicious, the kindness they give him, and their care. Forever grateful for their care.

I really love my children being apart of the Little Wonders Timaru Family. Brooke is now seven but enjoyed her earlier years at "Wonders" the great thing for her is that she is still great friends with children she went there with. Mitchell is now 3 & loves going to "Wonders" They have both formed great relationships with the teachers. As a mother I love the variety of activities that the kids participate in. The food is fantastic as on a busy day I know that the children have had a good lunch meal so if they can have light evening meal. I would have no issues talking to any parents looking at enrolling their children to Little Wonders.